Wharton Graduation Speakers
Our 2022 Graduation speakers bring a diverse range of business acumen and embody the values we strive to uphold each day — innovative thinking, resilient leadership, and global collaboration. 
Wharton Undergraduate Graduation Ceremony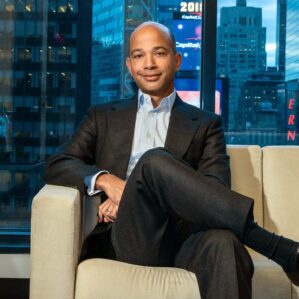 Scott Mills, W'90
Chief Executive Officer and President of BET
Scott M. Mills is the Chief Executive Officer and President of BET, the nation's leading provider of premium entertainment, music, news, digital and public affairs content for Black audiences worldwide. He reports directly to President and CEO of Paramount Global, Bob Bakish, and Chairman and CEO of Showtime Networks, David Nevins.
During his four-year tenure as BET President, Mills sparked invaluable change that structured and positioned the legacy brand for future success in a rapidly evolving media landscape. Since his appointment in 2018, Mills expanded the BET brand well beyond the framework of a traditional cable network, into the multi-platform media powerhouse that it is today with the launches of BET+, a premium subscription streaming service; BET Studios, an innovative studio venture providing equity ownership to Black content creators; BET's wide-reaching digital platforms and footprint; and much more. Bringing A-list content creators into the fold, Mills set new precedents for BET, and, by extension, Paramount Global, making the global media brand the largest commissioner of Black premium content through partnerships with Tyler Perry, Lena Waithe, Kenya Barris, Lee Daniels, and many others.
Under Mills' executive leadership, BET will continue to build upon its 40-year legacy of entertaining Black audiences and its commitment to entertain, engage, and empower the Black community. Philanthropy has always been central to BET's mission, however Mills' dedicated social impact strategies have inspired company- and industry-wide change. One such example is Content for Change, a multi-pronged initiative that leverages data to effect societal change and combat bias, that was recently adopted across the entire Paramount Global organization. Whether investing in Black communities, discovering, and fostering Black creatives and talent, or rallying Black leaders across business, media, and entertainment to raise nearly $20 million in COVID-19 relief to support Black communities hit the hardest by the virus, BET remains the industry leader in Black premium content and steadfast in its duty to the Black community.
Prior to his appointment to President and CEO, Mills was Chief Operating Officer, Chief Financial Officer and President of Digital Media for BET, and Senior Vice President of Business Development. After working in investment banking and serving as Deputy Treasurer of the City of Philadelphia, Mills joined BET as Senior Vice President of Business Development in 1997. A native of New York, he received his Bachelor of Science degree in economics from the Wharton School.
Wharton MBA Graduation Ceremony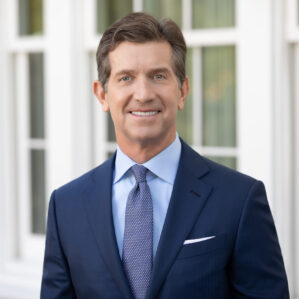 Alex Gorsky, WG'96
Executive Chairman of Johnson & Johnson
Alex Gorsky is Executive Chairman of Johnson & Johnson, and one of just seven leaders to have served in the dual role of Chairman and Chief Executive Officer since the company was listed on the New York Stock Exchange in 1944.
Gorsky began his Johnson & Johnson career as a sales representative with Janssen Pharmaceutica in 1988. Over the next three decades, he advanced through positions of increasing responsibility in sales, marketing, and management, culminating in being named CEO and Chairman in 2012.
Under his leadership, Johnson & Johnson reimagined how one of the world's most iconic companies could meet the healthcare needs of families around the globe—powered by a more than 60 percent increase in R&D investments to $12 billion in 2020, as well as hundreds of acquisitions and partnerships that contributed to growth across its Medical Devices, Pharmaceutical, and Consumer Health sectors. As part of Johnson & Johnson's commitment to serving more than a billion people each day, Gorsky oversaw significant breakthroughs in vaccine programs, including the successful deployment of the Ebola regimen in Africa and the end-to-end development of the Janssen single-shot COVID-19 vaccine in just 13 months.
During his time as CEO, Johnson & Johnson was consistently recognized as one of the most innovative and best-managed companies in the world—featured on the list of Fortune's Most Admired Companies in each year of his tenure, recognized as a "Most Innovative Company" by Fast Company, repeatedly named to Fortune's "Change the World" list, and ranked as the #1 best-run healthcare company in The Wall Street Journal Management Top 250 since its inception in 2017. Gorsky continually promoted a more diverse and inclusive culture at Johnson & Johnson, serving as the driving force behind many of the company's DE&I initiatives, including a $100 million pledge to fight health inequities faced by communities of color in the United States.
Outside Johnson & Johnson, Gorsky's influence has shaped both the healthcare landscape and the greater business community through his work as Chair of the Business Roundtable Corporate Governance Committee and as a member of the Business Council Executive Committee. Among other accolades, he has been honored with the Ripple of Hope Award by Robert F. Kennedy Human Rights (2017), the MLK Remembrance Award by the African American Leadership Council ERG (2018), and the BENS Eisenhower Award for outstanding contributions to The United States (2021). Gorsky currently sits on the Board of Directors of Apple, IBM, New York-Presbyterian Hospital, the Travis Manion Foundation, and Wharton's Board of Advisors.
After completing his undergraduate education at the U.S. Military Academy at West Point, Gorsky served six years in the Army, earning the rank of captain, the Ranger tab, and Airborne wings. He earned his MBA from the Wharton School in 1996. Gorsky has been married to his wife, Pat, for more than 30 years, and they are the parents to one son, Nick.
2021
Keynote Speakers
Rosalind Brewer, WAM'01, CEO, Walgreens Boots Alliance
Tory Burch, C'88, Executive Chairman and Chief Creative Officer of Tory Burch LLC
Sundar Pichai, WG'02, CEO of Google and Alphabet
Marc Rowan, W'84, CEO of Apollo Global Management, Inc.
2020
In lieu of a traditional, in-person ceremony, the Wharton School saluted the Class of 2020 with 30-minute virtual celebrations.
2019
MBA
Jonathan ("Jon") Gray, C'92, W'92, President and COO, Blackstone
MBA Program for Executives West
Anthony Noto, WG'99, Chief Executive Officer, SoFi
MBA Program for Executives East

David M. Rubenstein, Co-Founder and Co-Executive Chairman of the Carlyle Group
Undergraduate
Stacy Brown-Philpot, W'97, Chief Executive Officer, TaskRabbit
2018
MBA
Hamdi Ulukaya, Founder, Chairman, and CEO of Chobani, LLC
MBA Program for Executives West
Safra Catz, W'83, L'86, Chief Executive Officer of Oracle Corporation
MBA Program for Executives East

F. William McNabb III, WG'83, Chairman of Vanguard
Undergraduate
Jeff Weiner, W'92, Chief Executive Officer of LinkedIn
2017
MBA
Yuri Milner, Founder of DST Global
MBA Program for Executives West
K. Robert "Bobby" Turner, W'84, Chairman & Chief Executive Officer of Turner Impact Capital
MBA Program for Executives East

Adam Grant, Saul P. Steinberg Professor of Management at the Wharton School and Professor of Psychology at the University of Pennsylvania
Undergraduate
Nathaniel "Nat" Snead Turner V, W'08, Co-Founder and Chief Executive Officer of Flatiron Health
2016
MBA
Ruth Porat, WG'87, Chief Financial Officer of Alphabet
MBA Program for Executives West
Jacqueline Reses, W'92, Capital Lead of Square
MBA Program for Executives East

Anthony Noto, WG'99 (WEMBA 23), Chief Financial Officer of Twitter
2015
MBA
Neil Blumenthal, WG'10, and Dave Gilboa, WG'10, Co-Founders and Co-Chief Executive Officers of Warby Parker
MBA Program for Executives West
Josh Kopelman, W'93, Founder of First Round Capital
MBA Program for Executives East

David Pottruck, C'70, WG'72, Chairman of High Tower Advisors
2014
MBA
David Rubenstein, Co-Founder and Co-Chief Executive Officer of The Carlyle Group
MBA Program for Executives West
Neel Kashkari, WG'02, Former Assistant Secretary of the U.S. Treasury Department
MBA Program for Executives East

Dan Tangherlini, WG'01, Administrator of the U.S. General Services Administration
2013
MBA
Andrea Mitchell, Chief Foreign Affairs Correspondent for NBC News
MBA Program for Executives West
Inder Sidhu, WG'91, Senior Vice President of Strategy for Worldwide Operations at Cisco Systems
MBA Program for Executives East

Alex Gorsky, WG'96, Chairman and Chief Executive Officer of Johnson & Johnson
2012
MBA
Dr. Mehmet Oz, M'86, WG'86, talk show host and Director of Cardiovascular Institute and Complementary Medicine Program at New York Presbyterian Hospital
MBA Program for Executives
Carol Bartz, Former President and Chief Executive Officer of Yahoo! and Autodesk
2011
MBA
Vikram Pandit, Chief Executive Officer of Citigroup
MBA Program for Executives
Laurence M. Baer, President and Chief Operations Officer of San Francisco Giants
2010
MBA
Robert Kapito, W'79, Co-Founder and President of BlackRock
MBA Program for Executives
Paul Otellini, President and Chief Executive Officer of Intel Corporation
2009
MBA
Muhammad Yunus, Founder of Grameen Bank and 2006 Nobel Peace Prize Winner
MBA Program for Executives
Peter Robertson, WG'71, Chevron Corporation
2008
MBA
Jon M. Huntsman, Jr., Governor of Utah
MBA Program for Executives
Art Bilger, Managing Director of Shelter Capital Partners, LLC
2007
MBA
Lakshmi N. Mittal, Chairman and Chief Executive Officer of Arcelor Mittal and Founder of Mittal Steel
MBA Program for Executives
Patrick T. Harker, Dean of The Wharton School
2006
MBA
Leonard Lauder, W'54, Chairman of Estee Lauder Companies
MBA Program for Executives
Kenneth Moelis, W'80, WG'81, President and Joint Global Head of Investment Banking for UBS Investment Bank
2005
MBA
Alan Greenspan, Chairman of the Board of Governors for the Federal Reserve System
MBA Program for Executives
David Pottruck, C'70, WG'72, President and Chief Executive Officer of Charles Schwab