2023 Wharton Graduation Speakers
Our Graduation speakers bring a diverse range of business acumen and embody the values we strive to uphold each day — innovative thinking, resilient leadership, and global collaboration. 
Wharton Executive MBA Graduation Ceremony – San Francisco
Saturday, May 6, 2023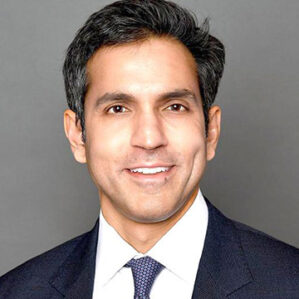 Ravi Ahuja, W'92, WG'97
Chairman
Sony Pictures Television
Ravi Ahuja is Sony Pictures' Chairman of Global Television Studios and Corporate Development, leading Sony Pictures' television productions and the studio's leading India business.  He also oversees Sony Pictures' Corporate Development and M&A activities.
Sony Pictures Television and its robust global portfolio of studios produce hundreds of award-winning and acclaimed television series around the world, including The Crown, The Boys, Cobra Kai, Better Call Saul, The Last of Us, Outlander, For All Mankind, The Night Agent, The Wheel of Time, Accused, The Blacklist, The Goldbergs, The Good Doctor, Shark Tank, Octonauts, Wheel of Fortune, Jeopardy!, Good Morning Football, American Idol, 90-Day Fiancé, and many more.
Since joining Sony Pictures 2 years ago, Ahuja has led several significant M&A transactions for the studio, including the acquisitions of award-winning nonfiction entertainment company Industrial Media, leading UK production company Bad Wolf and VFX company, Pixomondo, the sale of GSN Mobile Games to Scopely, and is currently overseeing the proposed merger between Sony Pictures Networks India and Zee Entertainment Enterprises.
Prior to joining Sony in March 2021, Ahuja was President of Walt Disney Television, which included the ABC Network, ABC News, ABC Owned Stations, Disney Channel, Disney Television Studios, Freeform, FX, Hulu Originals and National Geographic.  He played a central role in merging Disney/ABC Television and Fox Networks following Disney's acquisition of Fox in early 2019.
Prior to his time at Disney, he served as CFO of the Fox Networks Group, where he oversaw finance, strategy and business development for all its business units: Twentieth Century Fox Television, Fox Broadcasting, Fox Cable Networks, Fox Sports, National Geographic and Fox Networks Europe and Africa, Latin America and Asia.
In his 12 years at Fox, Ahuja formulated and executed on the company's growth initiatives, including those in streaming and new technology.  He helped to guide the company's Hulu joint venture for over a decade and spearheaded investments in Roku, Draft Kings and many others. Additionally, Ahuja led the acquisitions of National Geographic Partners, Yankees Entertainment & Sports Network and Sports Time Ohio.  Ahuja is currently on the Board of Directors of Roku, Inc.
Before joining Fox in 2007, Ahuja served as CFO for Virgin Entertainment Group, Inc.  Prior to that, he worked at McKinsey & Company and in investment banking.
Ahuja has undergraduate and MBA degrees from the Wharton School of the University of Pennsylvania, W'92, WG'97. He lives in Los Angeles with his wife, Amrita Sen, W'92, and sons Alec, C'24, and Aiden.
Wharton Executive MBA Graduation Ceremony – Philadelphia
Saturday, May 13, 2023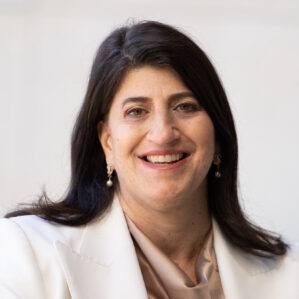 Lara Abrash


Chair and CEO, Deloitte & Touche LLP
Lara Abrash is the chief executive officer of the Deloitte US Audit & Assurance (A&A) practice, where she is responsible for overseeing all aspects of the organization, including execution of the quality, innovation, growth, and talent strategies. Recognized as a leader in the public accounting profession's drive to continuously improve audit quality, Deloitte's public company audit clients total over 7 trillion USD in market capitalization.
Prior to her current role, Lara served in a number of leadership roles during her career at Deloitte: chief operating officer, national A&A transformation leader, and deputy CEO of the A&A practice. While serving in each of these leadership roles, Lara also maintained significant client responsibilities for the firm's largest and most complex clients.
As national A&A transformation leader, she was instrumental in pioneering Deloitte's leading position to transform the audit profession through technology and innovation. Her leadership philosophy is based on her deep understanding of multinational clients in various industries, her leadership roles and experiences, and her passion for advancing innovation and inclusion in the profession. Lara frequently speaks on topics focused on advancing the profession including diversity, equity, and inclusion, the future of work, and tech disruption.
Lara's leadership extends to her community and other important causes. She is involved with the New Jersey Battered Women's Service, where she previously served as the treasurer. In addition, Lara's passions for inclusion and diversity are fueled through her involvement with Girls, Inc., whose mission is to inspire all girls to be strong, smart, and bold, and the Girls Who Code organization, whose mission is focused on closing the gender gap in technology. Finally, Lara is on the Board of Trustees of the SEC Historical Society and a member of the Financial Accounting Standards Advisory Council, which advises the Financial Accounting Standards Board (FASB) on issues related to projects on its agenda, possible new agenda items, project priorities, procedural matters that may require the attention of the FASB, and other matters as requested by the chairman of the FASB.
Lara is a licensed certified public accountant in New York and New Jersey and is a member of the American Institute of Certified Public Accountants. She holds a Bachelor of Arts degree in economics from the University at Albany, State University of New York, and a Master's of Business Administration from Baruch College.
Wharton Undergraduate Graduation Ceremony
Sunday, May 14, 2023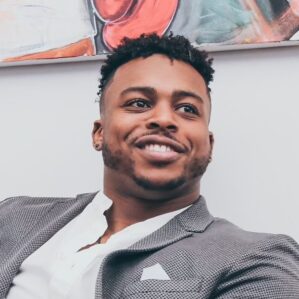 Brandon Copeland, W'13
10-Year NFL Veteran, Educator, Public Speaker, RE Developer, and Philanthropist
Copeland Media
Brandon Copeland is a 10-year NFL veteran, financial educator, philanthropist, and real estate developer. Born in Baltimore, MD, he earned a degree in management and entrepreneurship from the University of Pennsylvania's Wharton School, in 2013, while becoming a three-time Ivy League Football champion.
Brandon has played for several teams since entering the NFL, in 2013, building a reputation off the field for this financial advocacy. He is on a mission to democratize access to information, and has shared his message with countless others as a member of CNBC's Financial Wellness Council, a consultant for Morgan Stanley, a contributing editor for Kiplinger, and has led workshops, webinars, and courses for adults of all ages and his NFL peers.
Brandon has used his production company, Copeland Media, and strategic partnerships to expand the reach of his financial education course to over 90,000 people, while building a nine-figure real estate portfolio. He starred in the top 10 Netflix Series Buy My House.
In 2016, he co-founded Beyond The Basics, Inc., empowering underserved communities to realize their full potential by providing enriching experiences and opportunities aligned with the nonprofit's three pillars. Copeland's contributions to the community have been widely recognized, including being awarded the Alan Page Community Service Award and being named to the Forbes 30 Under 30 list. His dedication to financial education, philanthropy, and maximizing his platform and potential to help others achieve their dreams while he chases his own, make him an inspiring role model both on and off the field.
Wharton MBA Graduation Ceremony
Sunday, May 14, 2023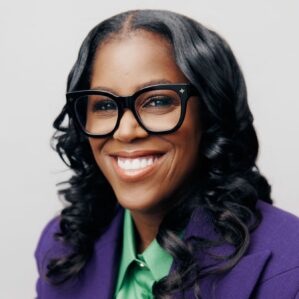 Thasunda Brown Duckett


President and Chief Executive Officer of TIAA
Thasunda Brown Duckett is president and chief executive officer of TIAA, a leading provider of secure retirements and outcome-focused investment solutions for millions of people and thousands of institutions.
She leads a company whose mission is defined by financial inclusion and opportunity – goals and values she has upheld throughout her career. Under her leadership, TIAA is expanding its mission beyond higher education to all Americans saving for retirement.
Before joining TIAA in 2021, she held several key executive roles during a 17-year career at JP Morgan Chase, including CEO of the Consumer Bank and Auto Finance. Earlier in her career, she was a Director of Emerging Markets at Fannie Mae.
Thasunda serves on the boards of NIKE, Inc., Brex Inc., Robert F. Kennedy Human Rights, Sesame Workshop, National Medal of Honor Museum, Economic Club of New York, the University of Houston Board of Visitors, and the Dean's Advisory Board for Baylor University's Hankamer School of Business. She is also a member of the Executive Leadership Council, Delta Sigma Theta Sorority, Inc. and Jack and Jill of America Inc.
In addition, Thasunda is an appointee to the President's Board of Advisors on Historically Black Colleges and Universities (HBCUs), The Business Council Executive Committee, the Business Roundtable and the Committee for Economic Development of The Conference Board.
Thasunda has received a wide array of accolades, including the lists of Most Powerful and Influential Women ranked by Fortune, Forbes, Barron's, and American Banker, as well as lists of financial influencers published by Money and MarketWatch.
She founded the Otis and Rosie Brown Foundation, in honor of her parents, to recognize and reward people who use everyday means to empower and uplift their community in extraordinary ways.
Thasunda grew up in Texas and lives in Connecticut with her family. She holds a Bachelor's degree in Finance and Marketing from the University of Houston and an MBA from Baylor University.
2022
Keynote Speakers
Chike Aguh, WG'12, Chief Innovation Officer at U.S. Department of Labor
Shellye Archambeau, WG'84, Fortune 500 Board Member, Former CEO of MetricStream, Advisor, Author
Alex Gorsky, WG'96, Executive Chairman of Johnson & Johnson
Scott Mills, W'90, CEO and President of BET
2021
Keynote Speakers
Rosalind Brewer, WAM'01, CEO, Walgreens Boots Alliance
Tory Burch, C'88, Executive Chairman and Chief Creative Officer of Tory Burch LLC
Sundar Pichai, WG'02, CEO of Google and Alphabet
Marc Rowan, W'84, CEO of Apollo Global Management, Inc.
2020
In lieu of a traditional, in-person ceremony, the Wharton School saluted the Class of 2020 with 30-minute virtual celebrations.
2019
MBA
Jonathan ("Jon") Gray, C'92, W'92, President and COO, Blackstone
MBA Program for Executives West
Anthony Noto, WG'99, Chief Executive Officer, SoFi
MBA Program for Executives East

David M. Rubenstein, Co-Founder and Co-Executive Chairman of the Carlyle Group
Undergraduate
Stacy Brown-Philpot, W'97, Chief Executive Officer, TaskRabbit
2018
MBA
Hamdi Ulukaya, Founder, Chairman, and CEO of Chobani, LLC
MBA Program for Executives West
Safra Catz, W'83, L'86, Chief Executive Officer of Oracle Corporation
MBA Program for Executives East

F. William McNabb III, WG'83, Chairman of Vanguard
Undergraduate
Jeff Weiner, W'92, Chief Executive Officer of LinkedIn
2017
MBA
Yuri Milner, Founder of DST Global
MBA Program for Executives West
K. Robert "Bobby" Turner, W'84, Chairman & Chief Executive Officer of Turner Impact Capital
MBA Program for Executives East

Adam Grant, Saul P. Steinberg Professor of Management at the Wharton School and Professor of Psychology at the University of Pennsylvania
Undergraduate
Nathaniel "Nat" Snead Turner V, W'08, Co-Founder and Chief Executive Officer of Flatiron Health
2016
MBA
Ruth Porat, WG'87, Chief Financial Officer of Alphabet
MBA Program for Executives West
Jacqueline Reses, W'92, Capital Lead of Square
MBA Program for Executives East

Anthony Noto, WG'99 (WEMBA 23), Chief Financial Officer of Twitter
2015
MBA
Neil Blumenthal, WG'10, and Dave Gilboa, WG'10, Co-Founders and Co-Chief Executive Officers of Warby Parker
MBA Program for Executives West
Josh Kopelman, W'93, Founder of First Round Capital
MBA Program for Executives East

David Pottruck, C'70, WG'72, Chairman of High Tower Advisors
2014
MBA
David Rubenstein, Co-Founder and Co-Chief Executive Officer of The Carlyle Group
MBA Program for Executives West
Neel Kashkari, WG'02, Former Assistant Secretary of the U.S. Treasury Department
MBA Program for Executives East

Dan Tangherlini, WG'01, Administrator of the U.S. General Services Administration
2013
MBA
Andrea Mitchell, Chief Foreign Affairs Correspondent for NBC News
MBA Program for Executives West
Inder Sidhu, WG'91, Senior Vice President of Strategy for Worldwide Operations at Cisco Systems
MBA Program for Executives East

Alex Gorsky, WG'96, Chairman and Chief Executive Officer of Johnson & Johnson
2012
MBA
Dr. Mehmet Oz, M'86, WG'86, talk show host and Director of Cardiovascular Institute and Complementary Medicine Program at New York Presbyterian Hospital
MBA Program for Executives
Carol Bartz, Former President and Chief Executive Officer of Yahoo! and Autodesk
2011
MBA
Vikram Pandit, Chief Executive Officer of Citigroup
MBA Program for Executives
Laurence M. Baer, President and Chief Operations Officer of San Francisco Giants
2010
MBA
Robert Kapito, W'79, Co-Founder and President of BlackRock
MBA Program for Executives
Paul Otellini, President and Chief Executive Officer of Intel Corporation
2009
MBA
Muhammad Yunus, Founder of Grameen Bank and 2006 Nobel Peace Prize Winner
MBA Program for Executives
Peter Robertson, WG'71, Chevron Corporation
2008
MBA
Jon M. Huntsman, Jr., Governor of Utah
MBA Program for Executives
Art Bilger, Managing Director of Shelter Capital Partners, LLC
2007
MBA
Lakshmi N. Mittal, Chairman and Chief Executive Officer of Arcelor Mittal and Founder of Mittal Steel
MBA Program for Executives
Patrick T. Harker, Dean of The Wharton School
2006
MBA
Leonard Lauder, W'54, Chairman of Estee Lauder Companies
MBA Program for Executives
Kenneth Moelis, W'80, WG'81, President and Joint Global Head of Investment Banking for UBS Investment Bank
2005
MBA
Alan Greenspan, Chairman of the Board of Governors for the Federal Reserve System
MBA Program for Executives
David Pottruck, C'70, WG'72, President and Chief Executive Officer of Charles Schwab