Wharton Graduation Speakers
Our 2021 Graduation speakers bring a diverse range of business acumen and embody the values we strive to uphold each day — innovative thinking, resilient leadership, and global collaboration.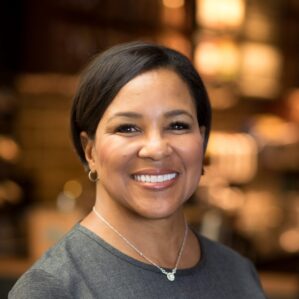 Rosalind Brewer, WAM'01, CEO of Walgreens Boots Alliance, Inc.
Rosalind (Roz) Brewer is Chief Executive Officer of Walgreens Boots Alliance, Inc., appointed March 2021, and a Director on WBA's Board. Today, she is ranked #27 on Fortune's 50 Most Powerful Women in Business.
Most recently, Ms. Brewer served as Chief Operating Officer and Group President at Starbucks from 2017 to 2021. Prior to Starbucks, she served as President and CEO of Sam's Club, a membership-only retail warehouse club and division of Walmart, Inc., from 2012 to 2017. Ms. Brewer previously held several executive leadership positions with Walmart beginning in 2006. Prior to joining Walmart, she served as President of Global Nonwovens Division for Kimberly-Clark Corporation, a global health and hygiene products company, from 2004 to 2006, and held various management positions at Kimberly-Clark beginning in 1984. She is a Board Member of the Smithsonian's National Museum of African-American History and Culture, and formerly served on the Board of Directors for Starbucks, Amazon, Lockheed Martin Corporation, and Molson Coors Brewing Company.
Ms. Brewer is currently Chairperson of the Board of Trustees for Spelman College, where she earned a BS in chemistry. She also attended Wharton's Advanced Management Program and Stanford University's Directors' College.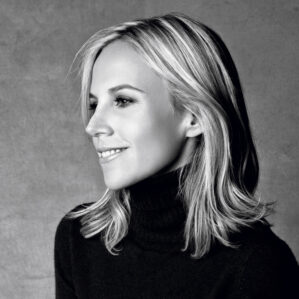 Tory Burch, C'88, Executive Chairman and Chief Creative Officer of Tory Burch LLC
Tory Burch is the Executive Chairman and Chief Creative Officer of Tory Burch LLC, an American lifestyle brand that started as a boutique in 2004 and has since grown into a global business with locations in New York, Paris, Shanghai, and more.
Social responsibility has been a part of the company since its inception. In 2009, Ms. Burch launched the Tory Burch Foundation as well as a Fellowship program to advance women's empowerment and entrepreneurship in the U.S. by providing access to capital, education, and digital resources. Ms. Burch serves on several boards, including the Society of Memorial Sloan-Kettering Cancer Center and the Jay H. Baker Retailing Center at the Wharton School. In addition, she is a member of the Council on Foreign Relations. She has been recognized with numerous awards and honors, including the CFDA for Accessory Designer of the Year, Forbes' Most Powerful Women in the World, and Glamour's Women of the Year. Her first book, Tory Burch In Color, was a New York Times Best Seller. In 2015, she launched Tory Sport, a collection of performance activewear that balances cutting-edge functionality with classic design.
Ms. Burch graduated with a BA in Art History from the University of Pennsylvania.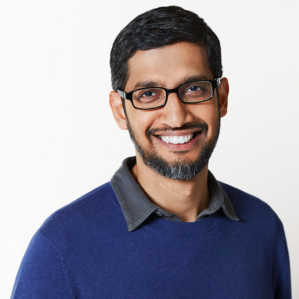 Sundar Pichai, WG'02, CEO of Google and Alphabet
Sundar Pichai is the Chief Executive Officer of Google and Alphabet, and serves on Alphabet's Board of Directors.
He joined Google in 2004 and helped lead the development of Google Toolbar and then Google Chrome, which grew to become the world's most popular internet browser. In 2014, he was appointed to lead product and engineering for all of Google's products and platforms — including Search, Maps, Play, Android, Chrome, Gmail and Google Apps (now Google Workspace). Mr. Pichai became Google's CEO in August 2015. Under his leadership as CEO, Google has been focused on developing products and services powered by the latest advances in AI. It has invested in new opportunities such as Google Cloud and YouTube and continued to be a leader in advanced technologies, including machine learning and quantum computing. He joined the Board of Directors of Alphabet, Google's parent company, in 2017 and eventually became Alphabet's CEO in 2019.
Mr. Pichai studied engineering at the Indian Institute of Technology. He graduated with a master's degree from Stanford University and an MBA from the University of Pennsylvania's Wharton School, where he was named a Siebel Scholar and a Palmer Scholar.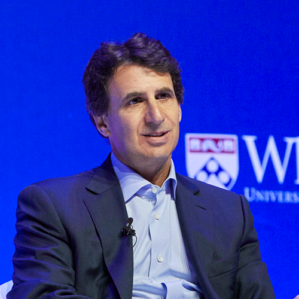 Marc Rowan, W'84, WG'85, CEO of Apollo Global Management
Marc Rowan is Chief Executive Officer and Co-founder of Apollo Global Management, Inc., one of the largest alternative asset managers with assets under management in excess of $455 billion and a market capitalization of $11 billion. Apollo is focused on investments across credit-oriented capital markets, insurance, private equity, and real estate.
Currently, Mr. Rowan is Chair of the Board of Advisors of the Wharton School and a member of the University of Pennsylvania's Board of Trustees. In addition, he is involved in public policy.  He is an initial funder and contributor to the development of the Penn Wharton Budget Model, a nonpartisan research initiative which provides analysis of public policy's fiscal impact. An active philanthropist, Mr. Rowan is a founding member and Chair of Youth Renewal Fund and Vice Chair of Darca, Israel's top educational network operating 40 schools with over 22,000 students throughout Israel's most diverse and under-served communities. He also serves on the board of OpenDor Media, a digital media company centered on engaging Jewish and Israel content. He is an Executive Committee member of the Civil Society Fellowship, a partnership of ADL and the Aspen Institute, designed to empower the next generation of community leaders and problem solvers from across the political spectrum. He also serves on the boards of several technology-oriented venture companies.
Mr. Rowan graduated summa cum laude from the University of Pennsylvania's Wharton School with a BS and an MBA in Finance.
2020
In lieu of a traditional, in-person ceremony, the Wharton School saluted the Class of 2020 with 30-minute virtual celebrations.
2019
MBA
Jonathan ("Jon") Gray, C'92, W'92, President and COO, Blackstone
MBA Program for Executives West
Anthony Noto, WG'99, Chief Executive Officer, SoFi
MBA Program for Executives East

David M. Rubenstein, Co-Founder and Co-Executive Chairman of the Carlyle Group
Undergraduate
Stacy Brown-Philpot, W'97, Chief Executive Officer, TaskRabbit
2018
MBA
Hamdi Ulukaya, Founder, Chairman, and CEO of Chobani, LLC
MBA Program for Executives West
Safra Catz, W'83, L'86, Chief Executive Officer of Oracle Corporation
MBA Program for Executives East

F. William McNabb III, WG'83, Chairman of Vanguard
Undergraduate
Jeff Weiner, W'92, Chief Executive Officer of LinkedIn
2017
MBA
Yuri Milner, Founder of DST Global
MBA Program for Executives West
K. Robert "Bobby" Turner, W'84, Chairman & Chief Executive Officer of Turner Impact Capital
MBA Program for Executives East

Adam Grant, Saul P. Steinberg Professor of Management at the Wharton School and Professor of Psychology at the University of Pennsylvania
Undergraduate
Nathaniel "Nat" Snead Turner V, W'08, Co-Founder and Chief Executive Officer of Flatiron Health
2016
MBA
Ruth Porat, WG'87, Chief Financial Officer of Alphabet
MBA Program for Executives West
Jacqueline Reses, W'92, Capital Lead of Square
MBA Program for Executives East

Anthony Noto, WG'99 (WEMBA 23), Chief Financial Officer of Twitter
2015
MBA
Neil Blumenthal, WG'10, and Dave Gilboa, WG'10, Co-Founders and Co-Chief Executive Officers of Warby Parker
MBA Program for Executives West
Josh Kopelman, W'93, Founder of First Round Capital
MBA Program for Executives East

David Pottruck, C'70, WG'72, Chairman of High Tower Advisors
2014
MBA
David Rubenstein, Co-Founder and Co-Chief Executive Officer of The Carlyle Group
MBA Program for Executives West
Neel Kashkari, WG'02, Former Assistant Secretary of the U.S. Treasury Department
MBA Program for Executives East

Dan Tangherlini, WG'01, Administrator of the U.S. General Services Administration
2013
MBA
Andrea Mitchell, Chief Foreign Affairs Correspondent for NBC News
MBA Program for Executives West
Inder Sidhu, WG'91, Senior Vice President of Strategy for Worldwide Operations at Cisco Systems
MBA Program for Executives East

Alex Gorsky, WG'96, Chairman and Chief Executive Officer of Johnson & Johnson
2012
MBA
Dr. Mehmet Oz, M'86, WG'86, talk show host and Director of Cardiovascular Institute and Complementary Medicine Program at New York Presbyterian Hospital
MBA Program for Executives
Carol Bartz, Former President and Chief Executive Officer of Yahoo! and Autodesk
2011
MBA
Vikram Pandit, Chief Executive Officer of Citigroup
MBA Program for Executives
Laurence M. Baer, President and Chief Operations Officer of San Francisco Giants
2010
MBA
Robert Kapito, W'79, Co-Founder and President of BlackRock
MBA Program for Executives
Paul Otellini, President and Chief Executive Officer of Intel Corporation
2009
MBA
Muhammad Yunus, Founder of Grameen Bank and 2006 Nobel Peace Prize Winner
MBA Program for Executives
Peter Robertson, WG'71, Chevron Corporation
2008
MBA
Jon M. Huntsman, Jr., Governor of Utah
MBA Program for Executives
Art Bilger, Managing Director of Shelter Capital Partners, LLC
2007
MBA
Lakshmi N. Mittal, Chairman and Chief Executive Officer of Arcelor Mittal and Founder of Mittal Steel
MBA Program for Executives
Patrick T. Harker, Dean of The Wharton School
2006
MBA
Leonard Lauder, W'54, Chairman of Estee Lauder Companies
MBA Program for Executives
Kenneth Moelis, W'80, WG'81, President and Joint Global Head of Investment Banking for UBS Investment Bank
2005
MBA
Alan Greenspan, Chairman of the Board of Governors for the Federal Reserve System
MBA Program for Executives
David Pottruck, C'70, WG'72, President and Chief Executive Officer of Charles Schwab